Maybe it's just bad luck, but for a while now, I have had bad results trying to buy cheap computer hardware on
eBay
, even when I'm willing to wait a good while to get a low-ball bid in on something, or when I'm not picky about the specifics. Those should be the times when eBay really shines, but I keep ending up with items priced way out of proportion. Naturally, the bidding doesn't get there until the last minute due to the plague of snipers and people who can't use proxy bidding because they don't know what they're willing to spend. But that's standard fare for eBay. No, the problem is that low-end, used, and obsolete computer equipment seems to go on eBay for inexplicably high prices, with distressingly high regularity.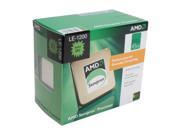 Case in point, after
frying a server
this weekend, I've been looking for any old CPU that'll fit the AM2 socket in the motherboard I pulled from Siobhan's computer a few weeks ago, that's at least comparable to and hopefully better than the anemic Sempron that was in the old server, and that's cheap. But even AM2 chips
slower
than the original are routinely going for $40 (including shipping) on eBay, and the lowest I ran into was $35. These are old, single-core processors of no special processor speed, and most of them are used. The $35 one didn't even include the cooling system!
By contrast, on
NewEgg
, I found
an AMD Sempron LE-1200 Sparta 2.1GHz 512KB
for $29.95, free overnight shipping, new in the box. Again, an unspectacular processor (though adequate for my needs in a file/media server), but you can't beat the price or the service. In fact, I could take this out of the box, put it back in, and sell it on eBay for $5-$10 profit. (Hmm....)
Ordered it yesterday afternoon. It's already out for delivery. Can't beat that! NewEgg may not have a name in Pig Latin, but it still wins. So I'm wondering... who's buying all these CPUs on eBay?