In the past on this blog I have
advocated the use of RSS feeds
to read this blog and lots of other stuff, and specifically recommended
SharpReader
. However, SharpReader's development seems to have died. The author is not fixing bugs, let alone making improvements, nor is he responding to inquiries. I offered to take over development, and suggested open-sourcing it, but no reaction.
The bugs in SharpReader are not crippling, but they are annoying. The filter feature often causes SharpReader to crash for me, and there are some very simple features like hiding read articles which it lacks. It's still quite usable, but after finding its development dead-ended and its author non-responsive, I went out looking for what else is out there.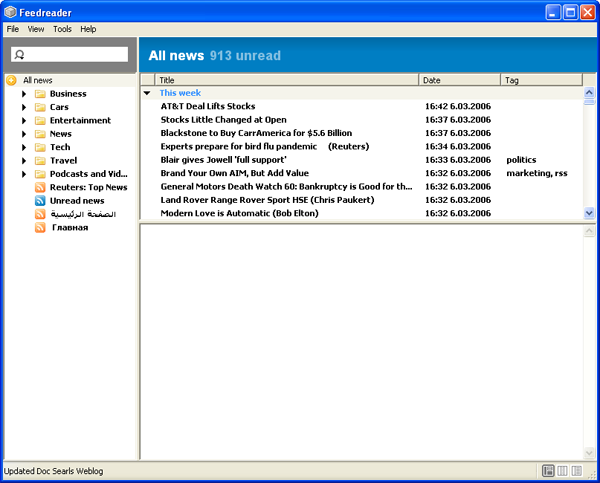 After trying a few free client-software RSS aggregators, I settled on
FeedReader
as the logical successor to SharpReader. It's very similar to SharpReader: it even retains a few of SharpReader's flaws, including an inability to remember from one session to the next that its window was left on the second monitor, and no smarts at identifying and removing/hiding duplicate articles. But it's familiar enough to be an easy transition, while bringing a lot of improvements. Notable ones:
The ability to hide read articles.

Intelliupdate figures out how often to poll feeds based on frequency of posts automatically.

Seems to use a lot less bandwidth on polling feeds.

SmartFeeds let you set up virtual feeds built from cherry-picked articles from other feeds, separated out by search criteria.

The ability to open an article in another window while keeping FeedReader in front.

A slightly slicker user interface.
About the only downsides I've run into are the lack of a keystroke to open an article in a new window, and the lack of a toggle button to show and hide unread messages.
It's a free
download
and I encourage anyone who reads blogs, the news, comics, or anything else with RSS feeds to try it out.